San Jose On1 and On2 Salsa Training Series
We are excited to come back to San Jose with our in-person salsa training classes starts Nov. 28th! These classes will fill up fast, so please register quickly. We can help arrange partnerships if you do not have someone in mind.
On1 and On2 Salsa Training Series have proven successful for learning the principles of salsa dancing, partnering technique, styling, footwork, spinning, and turn patterns. Train with Salsamania, world salsa champions, winners of 156 medals, and acclaimed legendary world class dance instructors. The program provides a dancer with intense rehearsals, yet offers a supportive atmosphere to facilitate faster progress. We are committed to bringing out the best in you as a dancer by sharing our love of salsa/mambo dancing!
If you are a higher level beginner to intermediate dancer wanting to refine your skills On1 or On2 Training series is the place to be! Recognized as one of the best salsa dance training programs in the world for the social dancers and for performers.
Location
Studio M Ballroom, Club 3550, Steven Creek Blvd #130., San Jose, CA
On1 Salsa Training Series :
(Footwork & Partnerwork)
Nov. 28 – Dec. 19th
7pm – 8:30pm
On2 Salsa Training Series:
Nov. 28 – Dec. 19th
8:30pm – 10pm
NOTE: If you don't want to pay a fee you can pay by cash, check or directly Zelle at Liz@johnandlizproductions.com
Pricing & Registration
Pre-registration is required.
On1 or On2 Series | 6 hours for $150 + tax per person til 11/22 | $200 + tax after 11/22 .
NO REFUNDS!!!
*** NEW: For students who wish to continue with online footwork classes, we will also offer these options: Instructional DVD's and Classes Online
Registration can be completed online via PayPal (johnandlizpayments@yahoo.com) or Venmo (@Johnandlizproductions). (Add. tax and fee)
For registration by mail, please send check payable to John Narvaez & Liz Rojas to: 1450 67th Ave. Oakland, CA 94621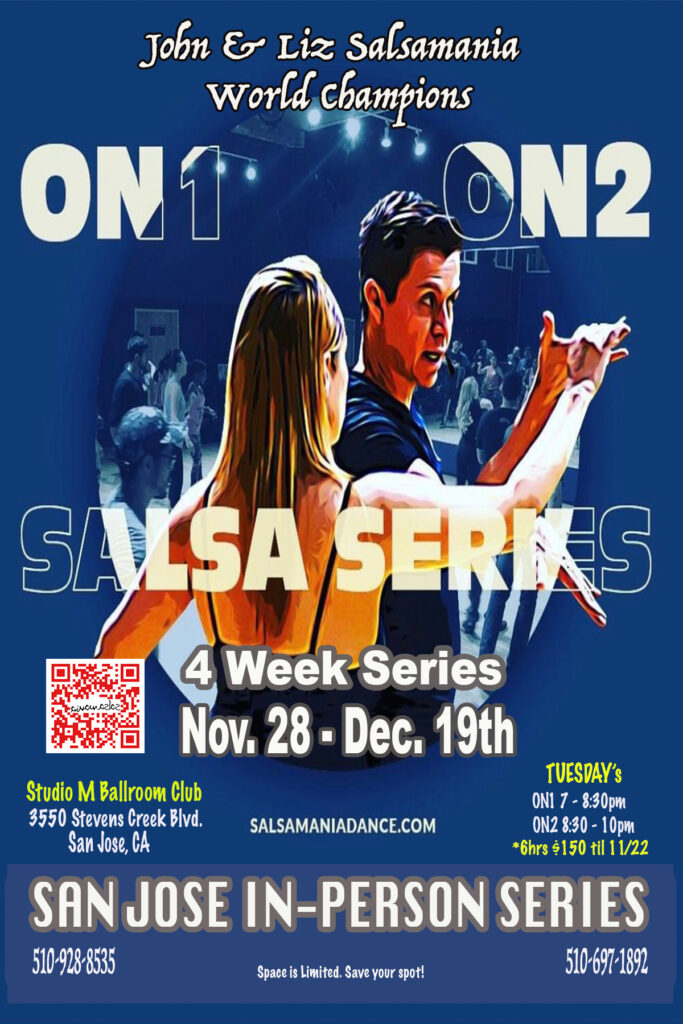 More Details
This program is recommended for high-level beginner/intermediate dancers, although there is no audition required to join the On1 or On2 Training Team. The teams were established to allow dancers to be a part of a group "in training."
Members of the On1 Training Team are expected to attend practice regularly. At the end of the program, members receive the option to have a formal assessment of their dancing skills. This assessment can also serve as an audition for those dancers who wish to progress to the On2 Training Team of the Salsamania Dance Company.
The On2 Training Team is also the first step to joining one of Salsamania's performance teams. Dancers who consistently excel in the On2 Training Team may be invited to join one of the performance teams.
For more information, please contact us at info@salsamaniaproductions.com or by phone at (510) 928-8535 or (510) 697-1892.